Welcome to the Zambia Journal of Teacher Professional Growth
Background
The Directorate of the National Science Centre (DNSC) in the Ministry of General Education (MOGE), Zambia is the institutional home of the Zambia Journal of Teacher Professional Growth (ZJTPG).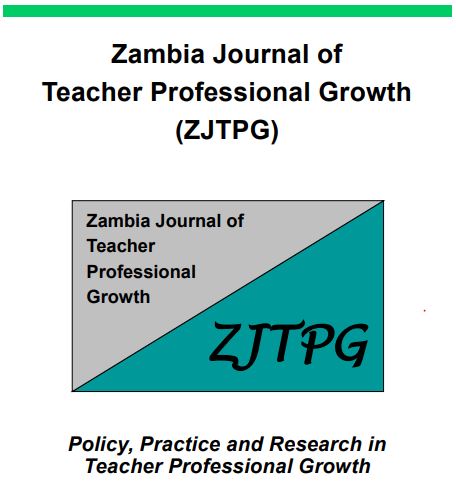 This Journal on teacher professional growth is published with support from the Ministry of General Education and Japan International Cooperation Agency (JICA) through the Improvement of Pedagogical Content Knowledge (IPeCK): Linking Pre-Service and In-Service Education Project. The absence of a platform for debate on issues related to the professional growth of teachers despite many interventions led the NSC and JICA to initiate the ZJTPG which focuses on Policy, Practice and Research in Teacher Professional Growth in Zambia.
The wish of the editorial team is to have a publication which enhances quality education delivery in Zambia through publication in the areas of teacher professional growth at pre-service and in-service teacher education in Policy, Practice and Research levels. The focus is on the teacher, learner and the curriculum relationship. To this effect, a forum for a variety of works is being created in which policy is expected to inform practice and at the same time practice inform policy. As a result, cross sections of stakeholders such as teachers, teacher education practitioners and researchers as well as policy makers are involved at all levels as contributors. Above all, grassroots and home grown researches are given due attention in order to encourage research practice among educationists in Zambia.
Editorial
This issue has two areas of publications namely articles and special distribution papers which covers research on a variety of issues to do with the teacher, learner and the curriculum. The editorial comment focuses on the professional growth of teachers and the methodologies employed in the researches and results. The papers of the Zambia Journal for Teacher Professional Growth centre on content and pedagogy of teachers. This calls for further research in the Pedagogical Content Knowledge (PCK) agenda.
We have not realized the required level of teacher professional growth in knowledge, skills and values to provide quality learning. This cannot be attained without dedication to researches that enhance classroom practice. Those of us who have committed our professional lives to attaining teacher professional growth anticipate that the advancement in teacher professional growth and capacity building would be matched by parallel enhancement in learning. To attain this, there is need to pay more attention to approaches used in researches to attain the needed results.
A few highlights of the Editorial Board findings were that despite an increase in the researches in many learning institutions, very few articles were published. Many articles are researches confined to academic achievement in learning institutions and, therefore, there is need for educationists to explore and undertake studies related to teachers, learners and actually what they learn, and how they link the curriculum, what they learn and environment at large. In this issue several of such dimensions are covered.